Food and Health
About Us
Design and technology is everywhere and in everything. It would be impossible for you to be reading this now without DT, from the computer or mobile device from which you are viewing it, to the infrastructure and systems which are serving this webpage to you. DT is essential to everyone's future. Imagine what would happen without creative minds developing new products and solutions to essential everyday problems and desires? Science & maths are the theory, but this is where the theory reaches reality.
Design and technology is an inspiring, rigorous and practical subject. Using creativity and imagination, pupils design and make products that solve real and relevant problems within a variety of contexts, considering their own and others' needs, wants and values. They acquire a broad range of subject knowledge and draw on disciplines such as mathematics, science, engineering, computing and art. Pupils learn how to take risks, becoming resourceful, innovative, enterprising and capable citizens. Through the evaluation of past and present design and technology, they develop a critical understanding of its impact on daily life and the wider world. High-quality design and technology education makes an essential contribution to the creativity, culture, wealth and well-being of the nation.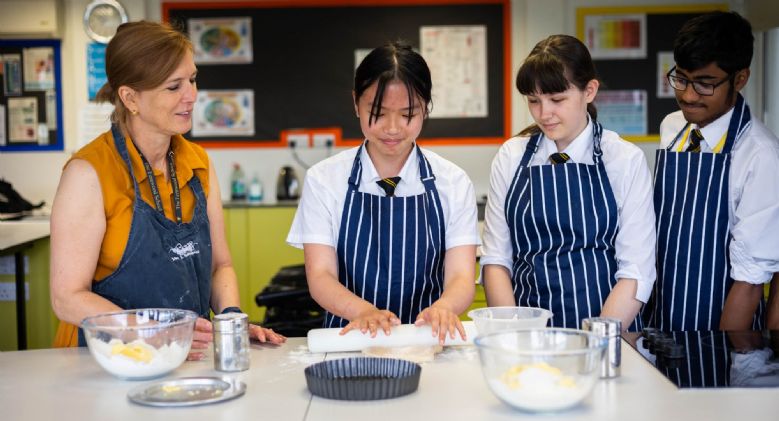 Y7 Learning and facilities
They are taught on a rotation system within DT. The students do two food projects in year 7. One which focuses on savoury products and is called Healthy Lifestyles. The other one has a focus of baking skills and is called Occasional Treats. The projects last for 7 weeks each. The students are also taught safe and hygienic practices when working with food.

We have 2 purpose- built food rooms at Fernwood. These were recently refurbished and include a camera to project demonstrations onto the whiteboards.

Knowledge and Skills
The idea is to develop a love for food and the ability to cook dishes from scratch. They will also learn about diet and nutrition and how to make healthy choices. We try to develop their food skills from Year 7 onwards through the production of a wide range of dishes. We run a number of competitions which are always popular. We offer specialist food courses at GCSE level.
Ingredients & Equipment
Students are given a recipe booklet and families provide their own ingredients. The finished dishes are then taken home for the family to enjoy. We are a very well- equipped department and so you do not need to provide anything other than a container to take the food home in.
Students bring their ingredients to the food rooms at the start of the day. The ingredients are stored as appropriate. We have large catering fridges to store high risk ingredients and cooled dishes when they have been made.