Music
We seek to nurture students' skills in performing and composing, as well as refining their listening abilities by introducing and exploring a wide range of genres and musical cultures. By taking part in music making, communication, social skills and cultural understanding are all developed.
Importance
Music is a unique form of communication that can change the way pupils feel, think and act. Music forms part of an individual's identity and positive interaction with music can develop pupils' competence as learners and increase their self-esteem. Music brings together intellect and feeling and enables personal expression, reflection and emotional development. As an integral part of culture, past and present, music helps pupils understand themselves, relate to others and develop their cultural understanding, forging important links between home, school and the wider world.
Music education encourages active involvement in different forms of music making both individual and communal, helping to develop a sense of group identity and togetherness. Music can influence pupils' development in and out of school by fostering personal development and maturity, creating a sense of achievement and self-worth, and increasing pupils' ability to work with others in a group context.
Music learning develops pupils' critical skills: their ability to listen, to appreciate a wide variety of music, and to make judgements about musical quality. It also increases self-discipline, creativity, aesthetic sensitivity and fulfilment.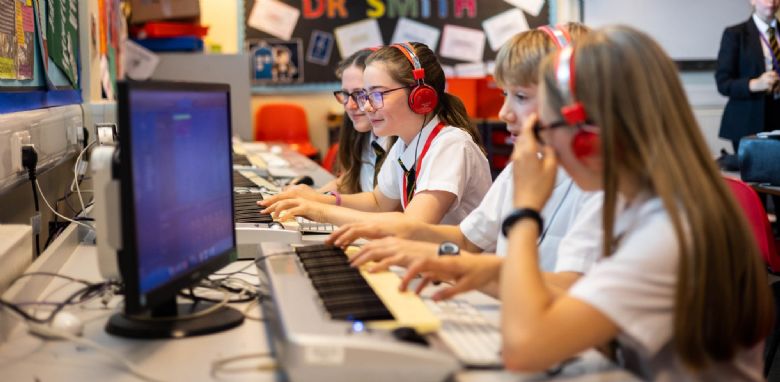 The aims of the Music curriculum are to ensure that students:
Listen to a broad range of music from a range of cultures, times and traditions and appreciate the place of music within all societies.
Develop and enhance performance skills through increasingly challenging pieces of music, building on dexterity and complexity over time. Students will be encouraged to apply appropriate stylistic conventions in order to give a convincing performance.
Learn to compose pieces of music in a range of genres, showing ever increasing stylistic understanding and application of musical elements such as melody, harmony, tonality and structure.
Reflect and evaluate on their own work and that of others, and to apply this learning across future projects
Gain an understanding of the conventions of different forms of written music.
Learn to use music technology software and hardware for performance and composition projects, developing greater understanding of its capabilities.


All elements of the music curriculum are supported by a broad extra-curricular offering. The absolute intention is that these work symbiotically, with each reinforcing the other, both in terms of specific understanding and in the development of wider musical skills.
---
FAQs
Can I have private instrumental tuition at Fernwood?
Yes! We currently provide baritone horn, cello, clarinet, drum kit, euphonium, flute, French Horn, guitar (acoustic, bass or electric), piano, singing, trombone, trumpet, tuba, violin and viola lessons. Our teachers teach from complete beginners all the way through to Grade 8 and beyond. If you wish to take music grade exams, you can, but equally there is no pressure to do so if you don't.
How and where can I sign up for instrumental tuition?
The welcome pack that you will receive in the summer term of Year 6 contains all of the information so that lessons can be organised for when you join Fernwood.
What extra-curricular activities do you run and can anyone join them?
We deliberately run a range of groups (orchestra, various wind ensembles, samba, choirs) for all abilities and whilst some will need you to be of a certain standard (mostly Grade 1+) on an appropriate instrument, our choirs and samba band are open to absolutely everyone.
What do students learn during year 7?
In Year 7, our main aim is to ensure that all pupils have a solid understanding of musical language and theory. We introduce music technology as well as the more traditional elements of music and in Year 7, study music ranging from traditional African drumming in Mali through to classical and pop music.
Can you study music all the way to year 11?
Yes! We currently teach OCR GCSE Music and NCFE Level 2 Technical Award in Music Technology for those students who wish to continue studying music all the way through the school.