OCR National in Engineering Manufacture

What is Engineering Manufacture?
Engineering manufacture is a discipline of engineers dealing with different manufacturing practices and processes using the machines, tools and equipment that turn raw materials into new products. Engineering Manufacture is responsible for every device that makes our lives easier and more fun. An engineer has helped to design and build the computers and printers we use, the chairs we sit on, our mobile phones, the planes we go on holiday in; even the saucepans we use to cook our dinner. Engineering is worth shouting about and to get rid of a few stereotypes, you'll be glad to know that more often than not, engineering is not about wearing overalls and getting dirty, it's not boring and certainly not a badly paid career.
Engineering Manufacture is crucial for the performance and competitiveness of our country. Engineers support businesses in areas like research, design and product development. The engineering industry already employs over 1.6 million people and employers are keen to increase their intake of new, young recruits with all the right skills.

What will I be doing?
The course mirrors real world engineering practice, and allows you to participate in activities, which would be useful in any future engineering or design based career. You will engage in technical drawing methods and come to appreciate how various types of drawings are used within engineering, such as sketching, orthographic projection, 2D computer aided design, 3D solid modelling and assembly drawings . You will learn how to interpret drawings and produce planning schedules that will allow you to operate the tools and equipment used to make products from the requirements of a design specification, as well as use relevant computer applications such as CAD/CAM, and CNC equipment
Developing an awareness of materials, manufacturing methods, quality control techniques and scale of production will underpin the production of a quality piece of practical work. The department has access to some of the very latest technologies to help support your manufacturing such as CNC Milling Machinery, a CNC lathe, rapid prototyping machinery a laser cutter and industry standard CAD software.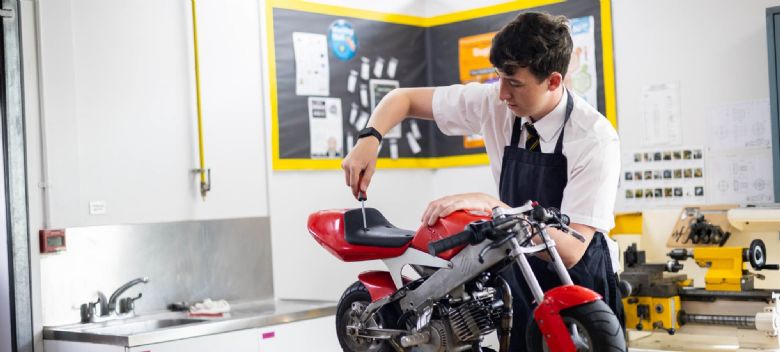 During the course you will be assessed by completing the following three units
Unit 1 – Preparing & planning for manufacture;
This unit will develop students' knowledge and understanding of engineering materials and processes, and their application in the manufacture of engineered products. The content of this unit includes planning, basic engineering processes and consideration of scale of production.
Written and machine & hand practical work undertaken.
Unit 2 – Computer aided manufacturing;
This unit covers computer applications in the design and manufacture of engineered products. Students will produce Computer Aided Design (CAD) drawings using relevant software to draw a small product that is then downloaded to Computer Numerical Control (CNC) machines for manufacture.
CAD and CNC manufacture undertaken.
Unit 3 – Quality control of engineered products;
Students will learn and use techniques and procedures to inspect and assess the quality of the product that is manufactured in unit 1. This will involve writing a series of reports about quality control, modern technologies used in quality control and the principles of lean manufacturing. (No practical manufacturing)

Course key details
Course Title: OCR Cambridge National Certificate in Engineering Manufacture
NEA: 75% – 3 Units
Examinations: 25% – 1 e
Key Contacts: Mr Davies

Transferrable skills
Note taking and research skills
Analytical and independent thinking
Planning and sequencing tasks
Use of CAD CAM software and equipment
Adaptability in order to gain more efficient working practices
Develop a keen sense of detail in assessing quality.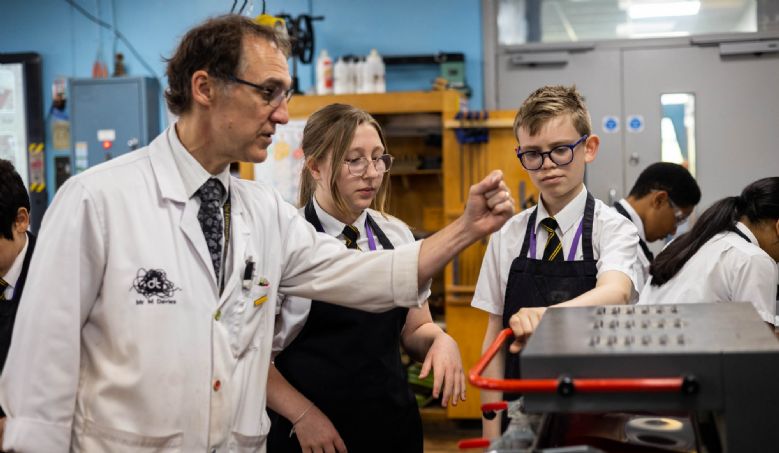 Routes to employment and Post 16 courses
Following the completion of this Level 2 Cambridge National in Engineering Manufacture will enable you to progress to A level Engineering or Product Design, vocational courses (BTEC or VQF's) and Apprenticeship framework.

Possible career paths
Mechanical Engineering, Electrical Engineering, Fabrication Engineering, Civil Engineering, Practical Apprenticeships, Product Design, Industrial Design, Marketing, Business & Management.
---
FAQs
How much practical work will I do?
Wherever possible, we will try and use practical work to develop your knowledge and understanding of engineering. However, only 22% of the marks available for the NEA are allocated to practical work. Therefore, there will be a lot of theory work, including writing up planning, evidencing and report writing for the NEA.
do i have to do any drawing?
No. There is no design work in this qualification. You will have to be able to 'read and understand' an orthographic drawing (you will be taught this) however you will not have to draw one.
i liked the dt subjects at ks3 but don't know whether to opt for product design or engineering manufacture
If you liked being creative, drawing and designing things that you then make, you would probably be better off opting for Product Design. If you think that you want a career in some form of engineering or are more technically minded, Engineering Manufacture might suite you more. There is no designing or creative aspect to Engineering Manufacture.
what could i do after this course?
Locally, Nottingham College offer level 3 qualifications in Engineering (BTEC) and Engineering Technologies (Vocational Related Qualification). There are apprenticeships available with some companies in the region. Nowhere locally offers an A level in engineering and looking to the future, you should be mindful of the fact that any most university degree course in engineering require A level maths as an entry requirement.