Design and Technology
About Us
Design and technology is everywhere and in everything. It would be impossible for you to be reading this now without DT, from the computer or mobile device from which you are viewing it, to the infrastructure and systems which are serving this webpage to you. DT is essential to everyone's future. Imagine what would happen without creative minds developing new products and solutions to essential everyday problems and desires? Science & maths are the theory, but this is where the theory reaches reality.
Design and technology is an inspiring, rigorous and practical subject. Using creativity and imagination, pupils design and make products that solve real and relevant problems within a variety of contexts, considering their own and others' needs, wants and values. They acquire a broad range of subject knowledge and draw on disciplines such as mathematics, science, engineering, computing and art. Pupils learn how to take risks, becoming resourceful, innovative, enterprising and capable citizens. Through the evaluation of past and present design and technology, they develop a critical understanding of its impact on daily life and the wider world. High-quality design and technology education makes an essential contribution to the creativity, culture, wealth and well-being of the nation.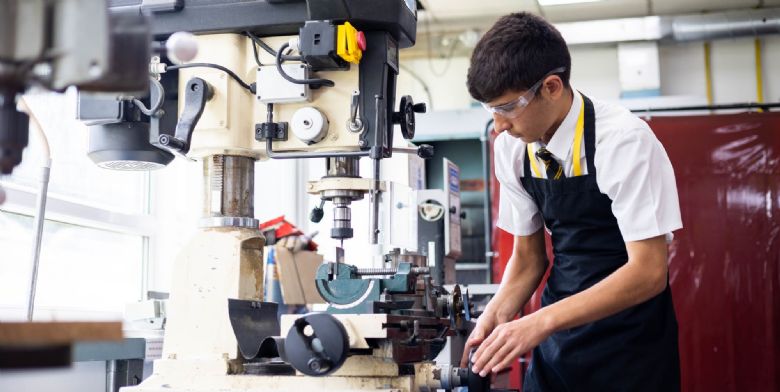 The national curriculum for design and technology aims to ensure that all pupils:
Develop the creative, technical and practical expertise needed to perform everyday tasks confidently and to participate successfully in an increasingly technological world
Build and apply a repertoire of knowledge, understanding and skills in order to design and make high quality prototypes and products for a wide range of users
Critique, evaluate and test their ideas and products and the work of others
Understand and apply the principles of nutrition and learn how to cook

---
Latest News (Instagram & Twitter: @fernwooddt)
---
A Quality Curriculum
Pupils combine practical, theoretical and technological skills with creative thinking to design and make products and systems that meet human needs. They learn to use current technologies and consider the impact of future technological developments. They are taught to think creatively and are exposed to stimulating contexts providing opportunities for good design. Children respond with ideas, products and systems, challenging expectations where appropriate. They combine practical and intellectual skills with an understanding of aesthetic, technical, cultural, health, social, emotional, economic, industrial and sustainability issues. Design is encouraged to be user centric, and all work is evaluated with a view to performance and suitability to users. Through design and technology pupils develop confidence in using practical skills and become discriminating users of products. They apply their creative thinking and learn to innovate.
---
Faculty Facilities
The D&T department is comprised of 3 well equipped workshops, along with 3 dedicated computing suites. We have a vast array of machinery and technology at our disposal, from 3D printing, laser cutting and CNC routing through to more traditional equipment such as lathes, steam bending equipment and milling machines.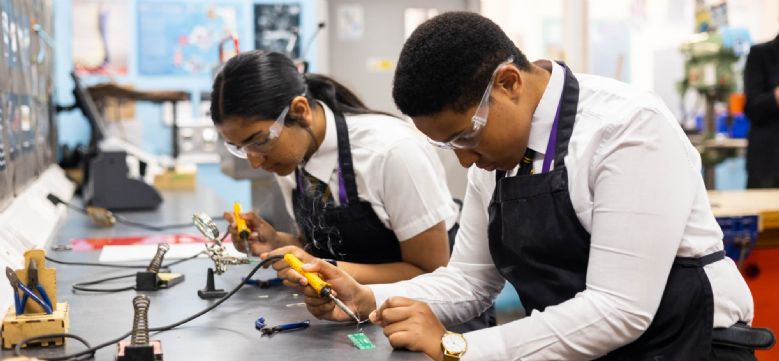 Children predominantly work out of project booklets in KS3, which are stored in a provided A4 wallet, and then A3 sketchbooks for KS4. The D&T department also operates a prefect run lunchtime facility where students can book to use computing facilities during their lunch break to complete additional tasks and home learning.
Children enjoy two hours of D&T a week at KS3.
---
FAQs
What do children learn during year 7?
We start Year 7 by introducing some drawing skills and techniques that students will be using and building upon throughout their time at Fernwood. We then move on to a range of projects covering electronics, computer aided design, architecture, metal work and wood work. We aim to give Year 7 students a variety of projects that will inspire them, as well as begin their learning journey into Design & Technology. All of our projects incorporate a range of Design & Technology skills that provide our students with a solid learning foundation should they choose to progress with the subject in KS4.
what equipment will my child need?
We recommend that all students, on top of their standard school equipment, have a set of colouring pencils, glue stick, scissors, and drawing pencils. By having these pieces of equipment, students will be able to complete homework to the standard expected. As a department, we provide students with project booklets and a plastic project folder. This project folder allows your child's booklets to remain neat and tidy, and increases their levels of responsibility. Whilst in lessons, we will provide access to software used throughout Year 7 in computer aided design lessons. Your child will also have access to a wide range of industry standard equipment and machinery that will be used throughout their time in Design & Technology.
what will my child make in design and technology lessons?
Your child will make a small pine storage box to their own design, an acrylic LED night light using computer aided design and manufacture, and a pewter cast keyring using a mould of their own design. They will then move onto an architecture project where students will work in teams to design and model a building. All projects incorporate a design element, manufacturing and problem solving.
what equipment and machinery does the department have?
The Design & Technology department is extremely well facilitated. We have three workshops and three dedicated graphics suites. Within the workshops we have a range of machinery including pillar drills, braising hearths, belt sanders, as well as more advanced machines that your child will learn to use throughout their time at Fernwood. Some machinery is age restricted however, so your child will not be able to use all of the machinery we have on offer. Each workshop is also fitted with a range of hand tools. We have three 3D printers and a resin printer. Fernwood incorporates computer numerically controlled manufacturing into some of our projects, and to support this we have a CNC router, CNC milling machine, and CNC lathe, as well as a large-bed laser cutter.
are there any extra-curricular activities my child can be involved with in design and technology?
We run several clubs and activities across the Design and Technology department. At Christmas we run a 'Christmas Craft Club' where students in Years 7 & 8 can make a small decoration to take home. They will use skills from the projects they have completed.