GCSE French & German
A language GCSE is an important component of the EBac qualification, which many universities look at to give them an indication of what can set one student apart from another. Aside from that, languages are becoming ever more essential in today's world market, whatever your speciality, and are a skill for life which employers value highly.
At Fernwood, we offer a choice of two European languages, French or German. These are the languages most in demand by UK businesses. You can choose one of them, or you can take both! Students will follow a full GCSE course in French and/or German.
Whatever you choose, the course will be very similar – the only big difference will be the language you speak!



Why should I study this course?
If you enjoy communicating with other people, finding out how language works and learning about different countries and cultures, studying GCSE French and German is an excellent choice for you. Of course you will learn to understand a lot more French and German when you hear it or read it and be able to say and write a lot more in French and German. But there are many other reasons for taking this GCSE course:
You will add an international dimension to your choice of GCSE subjects, which is something many future employers and higher education providers look for.
You will learn many skills which are useful in a wide range of future careers, such as the ability to communicate clearly, being confident about speaking in public, using problem-solving strategies, etc.
You will create greater opportunities for yourself to work abroad, or for companies in the UK with international links. Many employers look for people who speak a foreign language. Remember 75% of the world does not speak English.
You will learn about the countries where French and German are spoken and will get an insight into the cultural differences between European countries.
The study of French and German will broaden your horizons and encourage you to step beyond familiar cultural boundaries and develop new ways of seeing the world.

What do I need to know, or be able to do, before taking this course?
Good news! If you've studied French or German at Key Stage 3, you're well prepared to do a GCSE course in these languages. You already know a lot of the vocabulary and grammar you'll need for GCSE. You know how to talk about yourself, your family and friends, your hobbies, where you live, school, holidays, food and drink. You'll build on these topics during your GCSE course, as well as moving on to new topics. So you're already part way there.

What will I be studying during the course?
The course is based on the skill areas of Listening, Speaking, Reading and Writing.
The language content of the Full GCSE examination will be based around the three themes:
Identity and Culture
Local, national, international and global areas of interest
Current and Future Study and Employment

How will I be assessed?
This is a linear qualification with all assessments being completed at the end of the course in May or June of Year 11. You will take all four components – Listening, Speaking, Reading and Writing – at the same level – either Foundation or Higher – and each component is worth 25% of the GCSE grade.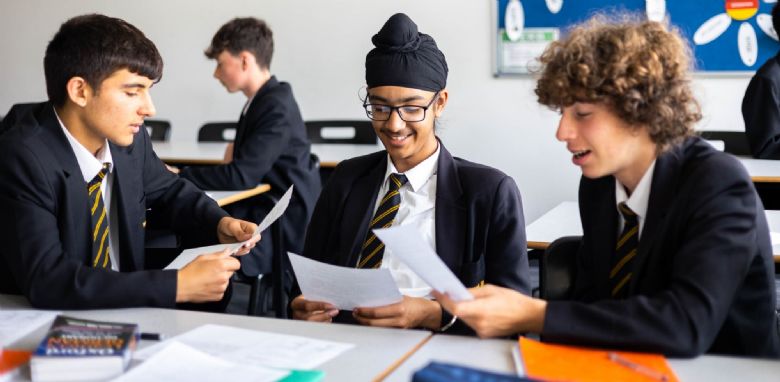 Routes to employment
People with language skills and knowledge are highly thought of in the modern world. They stand out as talented and successful people, with broad and exciting horizons. Taking GCSE French and German means you will:
have much more fun when travelling to a French or German speaking country
be able to study A Level French and/or German courses
add an extra dimension to your personal skills profile which will impress anyone who reads your CV. A language qualification will make you stand out from the crowd in your university and apprenticeship applications.
be in a stronger position to get a job in companies with international links or to work abroad.
There are many Fernwood students who have continued their language studies at A Level and beyond and who are currently either living and working abroad or using their language skills in their employment in the UK in fields such as Business, Law, Management and Public Relations. Being able to communicate in French and German can open many doors in life. You never know where it may lead!

FAQs
Are languages compulsory?
Languages are not compulsory at GCSE. However, it is strongly recommended, particularly (but not exclusively) if you are on pathway 1. If you want the EBAC, a language is necessary.
Will I be taught in sets?
Probably not, in favour of MFL having more flexibility in the options block.
What exams will I have?
You will be doing 4 exams – reading, writing, speaking and listening. All exams are worth 25% of your overall grade and all are done at the end of Year 11. The speaking exam is conducted by your teacher and lasts between 10 and 15 minutes. The other exams take place in the hall and are all about an hour long.
Are their tiers of entry in MFL?
Yes, you will be entered for either foundation (grades 1-5) or higher (grades 4-9). You will need to do the same tier for every exam.
What topics will I cover at GCSE
You will build on the topics that you covered in KS3. There are three themes: identity and culture, local, national, international and global areas of interest and current and future study and employment.
Can I take 2 languages at GCSE?
If you have been taking 2 languages in Year 9 you can continue with both at GCSE. This will be part of the school day – it will no longer happen after school.
Can I take another language (other than French and German) at GCSE?
At Fernwood we only teach French and German at GCSE.
Are there any trips at KS4?