Fernwood Young Citizens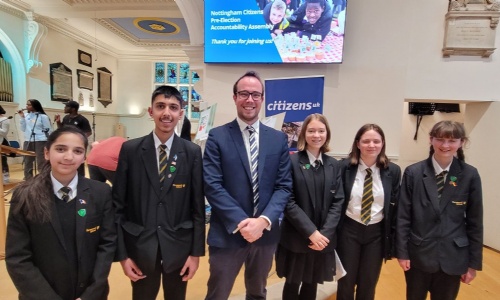 Citizens UK is a people power alliance of diverse local communities working together for the common good. Within this National wide organisation are local Citizens UK chapters that support in making improvements to people's lives. Nottingham Citizens UK have created the Young Manifesto which works with several schools, universities, churches, mosques, synagogues, and charities across Nottinghamshire to provide young people with a voice and to support in making a difference to their lives and their local communities.
Fernwood School was invited to join the Young Manifesto to find out what issues our students were concerned about within their local communities. The Young Manifesto was promoted to all students who then had the opportunity to sign up and show interest in making a difference. From this, a small group was formed with students from years 9 and 10 who came together to discuss their concerns and listened to others around school, ready to discuss these at the next Nottingham Young Citizens Manifesto meeting. Since October, Fernwood Young Citizens have been attending several meetings with young people across the county, listening to a range of concerns, personal stories and deciding which areas they would like to target. It was concluded that the young people had serious concerns around Mental Health, the Cost-of-Living Crisis and Community Safety, and wanted to see the government make changes in how they support people.
On Wednesday 19th April 2023, six of our Young Citizens were invited to St. Nic's Church in Nottingham for a Young Citizens Manifesto event. Several schools and organisations across the county came together to discuss the issues that our young people have been raising since October. The issues raised were around the three areas mentioned above; the cost-of-living crisis, mental health, and community safety, with children throughout the event sharing their hard-hitting stories of how they have been directly affected. Two councillors attended; Kevin Clarke (Labour) and Daniel Atherton (Conservative) to listen to the stories shared and to put their manifestos to the young people on how they were going to deal with the problems raised. The event then gave young people the opportunity to have their say on who they would like to succeed in the election if they were able to vote by submitting a 'ballot paper'. The winner on the night was Kevin Clarke (Labour).
Each school/organisation had a role within the event and Fernwood students had been chosen to represent the welcome team for guests when they arrived. Two of our students were positioned outside the church on Maid Marion Way waving the flags whilst three of our students were inside meeting and greeting the guests, escorting the VIPs to their seats, and ensuring they were happy. During the event, a few of them had been selected to give flowers of thanks to the VIPs who have gone above and beyond to support young people across Nottinghamshire. As always, the Fernwood students did us proud, demonstrating outstanding interpersonal skills, teamwork, and enthusiasm.
In addition to the work above, our Young Citizens wanted to focus on their own project in creating a toy library to support families who had young children and are struggling with the cost-of-living crisis. The students meet weekly to discuss their next steps, create resources to promote the project and to communicate with relevant adults who can support in making the project happen. The students have sent letters to parents and delivered year group assemblies to promote the toy library asking for toys to be set aside until the logistics have been decided. The students have spoken with local councillors who have agreed to support the students and have recommended local spaces that could be used to house the toy libraries.
The next steps within the plan are to work with our feeder primary schools to promote the toy library and to collaborate, if possible, in providing a space and access for their families who are struggling with the cost-of-living crisis. The students will be visiting a toy library which is established in Bulwell to discuss the logistics, ask any questions they may have, and to apply the process to their own project. The students will be providing volunteering opportunities for DofE students across Wollaton and the surrounding areas which can be difficult to obtain, whilst also asking for the support of other volunteers such as community organisations such as brownies, scouts, etc. family members, friends and other adults who want to help in making a difference.
Thank you for taking the time to read this and for supporting our Fernwood Young Citizens in making a difference. To find out more about Citizens UK please see the website below: